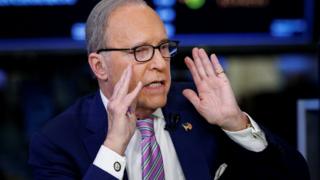 Television commentator Lawrence Kudlow has said he accepted the role of top economic adviser to US president Donald Trump, US media report.
Mr Kudlow will reportedly lead the National Economic Council after Gary Cohn quit last week.
Mr Cohn resigned after disagreeing with Mr Trump about his plan for tariffs on metal imports.
Mr Kudlow, a former Bear Stearns investment banker, is currently a pundit on business news channel CNBC.
"The president offered me the position last evening and I accepted," he told Reuters news agency on Thursday.
The White House has yet to confirm his hiring.
Mr Kudlow was an early supporter of Mr Trump, and is well-known conservative voice.
What is his background?
He was born in New Jersey and studied at the University of Rochester and Princeton's school of public and international affairs.
His career in economics started with a junior position at the New York branch of the Federal Reserve.
He subsequently worked as an economist for Wall Street firms and for former President Ronald Reagan, where he helped to make the case for 1980s tax cuts.
In 1994, Mr Kudlow spoke to the New York Times about battling drug and alcohol addiction, saying he hoped his story would help others in the position. The problem had led to his resignation as chief economist from the Bear Sterns investment bank.
Mr Kudlow subsequently re-invented himself as a media personality, hosting radio and television programmes, including for the business news channel CNBC, where he remains a contributor.
Where does he stand on the issues?
Mr Kudlow is known as a "supply side" economist – a champion of lower taxes, which he says spur consumer spending and lead to economic growth.
He is also a self-described "inflation hawk" – though he has called recent concerns "misplaced".
As an ardent free-trader, he has defended the North American Free Trade Agreement and was critical of President Trump's recent plan to impose 25% tariffs on foreign steel and 10% tariffs on foreign aluminium.
But he praised the president for exempting Mexico and Canada. He has also urged targeted action against China, especially when it comes to intellectual property.
Those views make him a fairly typical, establishment Republican – which makes it a bit of a surprise that Mr Kudlow also had early political roles working for Democrats and was a member of the left-wing Students for a Democratic Society.
What is the reaction?
FreedomWorks, a conservative group that advocates for lower taxes, had urged Mr Trump to select Mr Kudlow,
Others have been more sceptical.
David Stockman, Mr Kudlow's former boss during the Reagan administration, has warned that Mr Kudlow would not be able to rein in the president.
"As much as I love him … Larry's voice is exactly the wrong voice that Donald Trump ought to be hearing as we go forward," he told CNBC.
Liberal economist Paul Krugman has been sharply critical, noting that Mr Kudlow missed signs of the housing bubble and recession.
Indeed in December 2007 – just as the recession was beginning – Mr Kudlow wrote in the National Review: "There's no recession coming. The pessimistas were wrong. It's not going to happen."
BBC News Source Link
Brought to you by Planet Genius
If You Liked This Article, Join our Newsletter To Receive More Great Articles