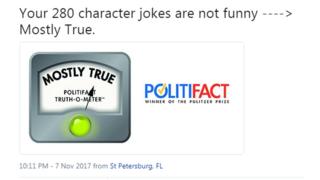 No longer will Twitter users have to condense their thoughts to a mere 140 characters – the majority will now have double that to play with.
Good news, right?
While some have welcomed the rollout, which comes after a test launched in September, not all of Twitter's users are over the moon.
The hashtag #280Characters has been shared close to 350,000 times since the announcement on Tuesday. The reaction has been….well, it's been mixed.
Some were keen to make full use of all the new space. After all budding mathematicians or all-round show-offs are no longer limited to just the first 140 digits of pi.
And the entire first verse of classic 1990s TV show The Fresh Prince of Bel Air is but a click of a button away.
The US National Basketball Referees Association cautiously hoped the elevated character limits may usher in a new era of calm, reasonable and grammatically coherent Twitter discourse. It's good to dream big.
You might also like:
But others made the case for brevity.
CNN correspondent David McKenzie was among those calling for restraint, while the team behind BBC TV show QI offered an insight into what Britain's most celebrated wordsmith William Shakespeare may have made of it.
Other Twitter users were bemused by the company's priorities. Social media user Brian Adams was among many who used their extra characters to demand a different innovation.
In a blog post announcing the news, Twitter said just 5% of tweets sent during the trial were longer than 140 characters.
"We – and many of you – were concerned that timelines may fill up with 280 character tweets, and people with the new limit would always use up the whole space," said product manager Aliza Rosen.
"But that didn't happen.
"People in the test got very excited about the extra space in the beginning and many tweets went way beyond 140. We expect to see some of this novelty effect spike again with this week's launch and expect it to resume to normal behaviour soon after."
BBC News Source Link
Brought to you by Planet Genius
If You Liked This Article, Join our Newsletter To Receive More Great Articles