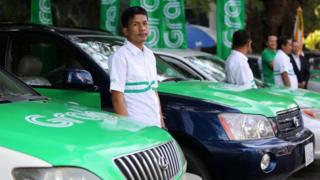 US ride hailing firm Uber is selling its South-East Asian business to regional rival Grab, sources familiar with the deal have told the BBC.
The sale is expected to be announced later on Monday.
Uber is expected to retain a stake in the combined business, reported to be up to 30% of the merged business.
The move echoes Uber's 2016 sale of its China business to local rival Didi Chuxing and marks a further retreat from international operations.
Last year Uber lost $4.5bn (£3.2bn) and its chief executive as the firm underwent a fundamental shake-up.
There has been no official confirmation of the deal as yet but consolidation in the industry was widely expected after Japan's Softbank Group made a large investment in Uber earlier this year.
SoftBank is a major investor in several of Uber's rivals including Grab, China's Didi Chuxing and India's Ola.
Competition in the ride-hailing sector has been fierce, resulting in discounts and promotions offered to riders and drivers reducing profit margins. Softbank is believed to have pushed for consolidation in order to improve revenues.
According to Bloomberg, which first reported the deal with Grab, it includes the sale of all of Uber's operations in the region including Uber Eats.
Preparing to float
Last November Uber's chief executive, Dara Khosrowshahi, said the company's Asia operations were not going to be "profitable any time soon" and said he would like to see some changes.
The firm has also exited its Russian business, selling to local firm Yandex.
Mr Khosrowshahi has been preparing the firm for an initial public offering in 2019. But as well as the firm's challenging finances he has also had to manage the fallout from last year's negative publicity around the behaviour, including allegations of sexual harassment, of its co-founder Travis Kalanick.
Mr Kalanick was eventually forced out as chief executive in June.
BBC News Source Link
Brought to you by Planet Genius
If You Liked This Article, Join our Newsletter To Receive More Great Articles