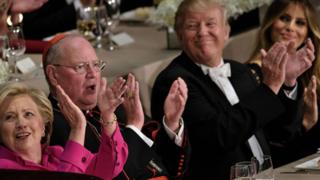 White House rivals Hillary Clinton and Donald Trump have poked fun at each other at a charity dinner, a day after their bitter duel on the debate stage.
She laughed as Mr Trump joked about her well-paid speeches and the FBI investigation into her private email.
But he was booed when he referred to her as corrupt and anti-Catholic.
The annual Alfred E Smith Memorial Foundation Dinner in New York is a white-tie gala that every four years features the presidential candidates.
There is a tradition that the rivals stand up and make jokes about each other, but this year it comes after one of the most rancorous campaigns in memory.
On Wednesday night in Las Vegas at their final debate, Mr Trump called his Democratic rival a "nasty woman" and they both interrupted each other throughout.
His nickname for her is "Crooked Hillary" and he has threatened to have her jailed if he becomes president.
Mrs Clinton has said her Republican rival is running a "hateful, divisive campaign" and is unfit to take the highest office.
But at the New York event, they briefly put their differences aside and sat just one seat apart, with Cardinal Timothy Dolan between them.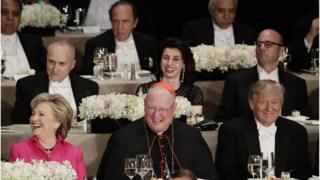 When they entered and took their seats, they did not shake hands or make eye contact, but there was more warmth when Mr Trump stood up to speak.
He joked that this crowd – of about 1,500 people – was her biggest audience yet, and in a dig at her Wall St connections, he said it would be unusual for her to be with so many corporate leaders and not get paid.
But when he said she was so corrupt she got booted off the Watergate commission, boos rang out.
He also got heckled when he said she was "pretending not to hate Catholics".
Perhaps his best line was when he referred in jest to his wife Melania's plagiarised speech in July, which borrowed from First Lady Michelle Obama.
Then Mrs Clinton stood up and had her chance.
Addressing Mr Trump, she said: "After listening to your speech, I will enjoy hearing [his running mate] Mike Pence deny that you ever gave it."
She also made a joke about Mr Trump's wealth, referring to Michael Bloomberg and saying it would be good to hear from a billionaire.
And she said that if he won the election, he would become "the first president who started a Twitter war with Cher".
Instead of seeing the Statue of Liberty being a beacon of hope, Mr Trump rates her looks as a "four" or maybe a five if she loses the torch, Mrs Clinton joked.
BBC News Source Link
Brought to you by Planet Genius
If You Liked This Article, Join our Newsletter To Receive More Great Articles