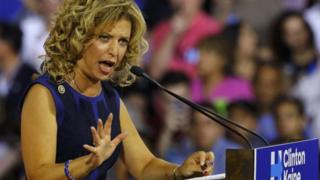 A row over leaked emails from the US Democratic National Committee (DNC) threatens to undermine efforts for party unity ahead of the presidential nominating convention.
Some emails leaked by WikiLeaks seem to suggest that party insiders tried to sabotage the campaign by Hillary Clinton's rival Bernie Sanders.
Mrs Clinton is to be officially nominated at the Philadelphia meeting.
Mr Sanders pressed for the DNC chairwoman to step down.
The Vermont senator said Debbie Wasserman Schultz "should not be chair of the DNC".
"And I think these emails reiterate that reason why she should not be chair," he told ABC's This Week programme.
Some reports suggest Ms Wasserman Schultz will play a limited role at the Philadelphia convention in an attempt to placate the Sanders' campaign.
Marcia Fudge will chair the party convention instead, reports say.
Welcome endorsement
Mr Sanders and his supporters have also expressed disappointment at Hillary Clinton's choice of Virginia Senator Tim Kaine as her running mate, preferring someone further to the left.
But Mr Sanders did say: "I have known Tim Kaine for a number of years… Tim is a very, very smart guy. He is a very nice guy."
Mrs Clinton's campaign received a boost on Sunday with the announcement that Michael Bloomberg, who was elected New York mayor as a Republican, will speak to endorse her this week.
The Democrats' four-day convention starts on Monday, with speeches by First Lady Michelle Obama and Mr Sanders.
It comes just after the Republican convention that saw Donald Trump declared the Republican presidential nominee.
BBC News Source Link
Brought to you by Planet Genius
If You Liked This Article, Join our Newsletter To Receive More Great Articles