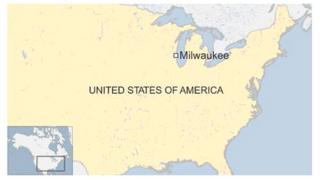 A two-year-old boy unintentionally shot and killed his mother in the US city of Milwaukee after finding a gun in the back of their car.
Patrice Price, 26, had been driving a car belonging to her security guard boyfriend who had left his gun in the car, her father Andre said.
Milwaukee police said she was shot once in the back while driving on Highway 175 on Tuesday morning.
Mr Price said his daughter had been driving her sons, aged one and two.
He said she also had an older daughter aged seven or eight, and described Patrice as "hardworking".
"Now I don't have her no more. My chest has been hurting," Mr Price said.
There have been a number of incidents in the US of toddlers getting hold of loaded guns and accidently firing them.
Last month, a four-year-old boy in Florida shot his mother, Jamie Gilt, in similar circumstances. A gun gun slid from underneath the front seat of the car to the back, and he unbuckled himself to get it.
Ms Gilt survived the shooting.
BBC News Source Link
Brought to you by Planet Genius
If You Liked This Article, Join our Newsletter To Receive More Great Articles