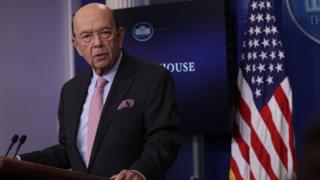 The US is set to maintain tariffs on certain Canadian lumber imports after its trade commission found goods were being sold in the US below cost.
The 4-0 decision comes after the US Commerce Department failed to reach an agreement in the long-running trade dispute last month.
The tariffs affect Canadian softwood imports valued at almost $5.7bn (C$7.3bn; £4.2bn) in 2016.
Canada has appealed to international panels in the dispute.
It is challenging the finding at the World Trade Organisation and via the dispute mechanism of the North American Free Trade Agreement (Nafta).
The tariffs, outlined by the Commerce Department in November, would add duties that range from about 10-24%, depending on the company, which is lower than an earlier proposal.
Canada has said the tariffs were determined using flawed methodology.
The ruling comes amid a growing number of trade disputes between the US and Canada and is likely to complicate already tense negotiations over Nafta.
A trade group for the US lumber industry, one of the organisations that sought an investigation, welcomed the decision.
"Now, with a level playing field, the US lumber industry, and the 350,000 hardworking men and women who support it, can have the chance to compete fairly," said Jason Brochu, co-chair of the US Lumber Coalition.
The US first slapped hefty tariffs on the import of Canadian softwood lumber, a common construction material used in homebuilding, in April.
In June, Canada announced $640m (C$867m; £500m) in relief for the country's lumber industry.
BBC News Source Link
Brought to you by Planet Genius
If You Liked This Article, Join our Newsletter To Receive More Great Articles