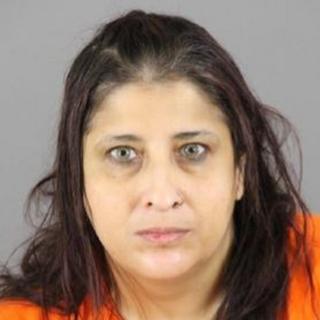 US authorities have charged a woman with attempting to provide support to the Islamic State group, saying that she helped "facilitate" attacks around the world.
Waheba Issa Dais, 45, was arrested in Cudahy, Wisconsin on Wednesday.
According to the FBI, she maintained "a virtual library of instructions on how to make bombs, biological weapons, poisons, and suicide vests".
She allegedly hacked Facebook accounts and used them to recruit attackers.
According to the Department of Justice, Ms Dais "helped facilitate planning for attacks in the United States… and overseas by providing instructions on how to make explosives, biological weapons, and suicide vests".
The mother-of-two would use the social media accounts to collect "best explosives and biological weapons techniques in order to pass this information onto would-be ISIS attackers," according to the affidavit.
It adds that she "provided detailed instructions to people interested in attacks and attack planning".
The FBI were first alerted in January after Facebook's security team told them that there was a Wisconsin-based user posting detailed instructions on how to make explosive vest bombs.
According to authorities, after hacking each Facebook account, she would change the profile image to a photo of a young Yazidi girl – a minority group in northern Iraq – who was apparently fleeing persecution from IS.
"Dais has also expressed a personal desire to travel overseas in support of ISIS," the statement read, using an alternative acronym for the group.
Ms Dais, who is originally from Israel, is charged with attempting to provide material support or resources to IS.
According to the Associated Press, she came to the US from Jerusalem in 1992 with her US husband.
The couple divorced in 2003, but she remained as a lawful permanent resident.
She is also accused by the FBI of encouraging a person to introduce ricin, a deadly poison, into a public water reservoir.
She also allegedly suggested targets to people online, including street festivals and other outdoor celebrations.
Dais is reportedly the first person to be federally charged in nearly six months for support for the violent terror group.
According to the Washington Times, she is also among the oldest people to have been charged with support for the Islamic State group.
She faces up to 20 years in prison.
BBC News Source Link
Brought to you by Planet Genius
If You Liked This Article, Join our Newsletter To Receive More Great Articles