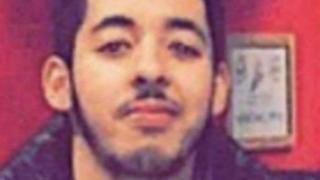 Police have named 22-year-old Salman Ramadan Abedi as the person suspected of carrying out the suicide attack at Manchester Arena on Monday evening.
The BBC understands that Abedi was a "mule" carrying out the attack for a larger network of collaborators, which is being investigated by Greater Manchester Police.
But what do we know about the suspected suicide bomber?
Abedi was born in Manchester on New Year's Eve 1994 to Libyan parents, who had fled that country after becoming opponents of Colonel Gaddafi's regime.
Having spent a few years in London, the family moved to Manchester where Abedi's father used to do the call to prayer at a mosque in Didsbury.
Abedi attended Burnage Academy for Boys in Manchester between 2009 and 2011, before later going on to Salford University.
However, he dropped out of university and worked in a bakery.
Friends remember him as a good footballer, a keen supporter of Manchester United and a user of cannabis. He had a sister and two brothers.
His mother and father are now believed to be back living in Libya. For a while he left the UK too, but he is believed to have returned in the past few days.
Abedi's family lived at more than one address in the city, including a property at Elsmore Road, in the Fallowfield area, that was raided by police on Tuesday.
Officers also searched a property in Whalley Range.
Abedi's 23-year-old brother Ismail was arrested on Tuesday in connection with the investigation.
A further three men were arrested on Wednesday after police executed warrants in south Manchester.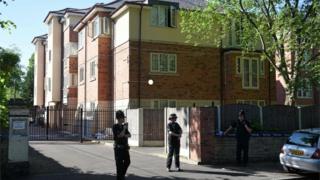 Manchester is home to one of the largest Libyan communities in the UK. Neighbours have talked about the family having a Libyan flag flying in its house at certain times of the year.
BBC home editor Mark Easton said the raided area was known to have been home to a number of Islamist extremists in recent years; some with links to Syria and Libya; some alive and some dead.
A former classmate of Abedi has told the BBC that "he was a very jokey lad" but was at the same time was "very short tempered", saying Abedi would lose his temper over "the littlest thing".
The man, who does not want to be identified, said he went to secondary school with Abedi at Burnage Academy for Boys in Manchester, formerly known as Burnage High School.
"What I realised was he had a short temper but apart from that was a very sound lad," the man said.
He said that Abedi was "away at random times throughout the year – but I don't know if that was because he was out the country, or just didn't show up to school, because he did hang around with the wrong crowd and was very, very gullible".
"You could tell him anything and he would pretty much fall for it," he added.
The former classmate said that, before leaving the school in 2011, Abedi became "more and more religious" and that this might explain why he cut ties with former classmates.
'The face of hate'
A trustee of the Manchester Islamic Centre, also known as the Didsbury Mosque, told the Press Association it was likely Abedi had attended there.
Fawaz Haffar said Abedi's father used to perform the call for prayer at the mosque, and one of his brothers had been a volunteer there.
Mr Haffar described the mosque as moderate, modern and liberal, and said he was a member of an organisation liaising with police.
Mohammed Saeed El-Saeiti, the imam at the Didsbury Mosque, remembers Abedi as an dangerous extremist, the Daily Telegraph newspaper reports.
"Salman showed me the face of hate after my speech on Isis [an acronym for the Islamic State group]," said the imam.
"He used to show me the face of hate and I could tell this person does not like me. It's not a surprise to me."
Chief Constable Ian Hopkins confirmed that it was clear that Abedi had been part of a network of collaborators and Home Secretary Amber Rudd said he had been known to security services.
The Islamic State group issued a statement after the attack claiming it had been carried out by one of its members, but that has not been verified.
BBC News Source Link
Brought to you by Planet Genius
If You Liked This Article, Join our Newsletter To Receive More Great Articles