With just 27 days to go until Americans go to the polls, here's your daily election dig, including why Obama smelled his hand, Facebook's Sheryl Sandberg leans out, and the undying loathing of the Hillary haters.
The latest
Donald Trump launched a war on two fronts, opening up a Twitter blitzkrieg on "weak and effective" Republican grandees, who are in open revolt at his hostile takeover of their party, even while his left flank is harried by Hillary Clinton. His campaign released a 30-second campaign ad, titled Dangerous, depicting his Democratic election opponent as too feeble to be president. At a rally in North Carolina, President Barack Obama said Trump was not even fit to get a job at 7-Eleven. The crowd lapped it up like one of the store's Slurpees. Obama also sniffed his own hand to make fun of a radio host's claim that he smells of sulphur. Clinton campaign chairman John Podesta said the FBI was investigating the hack of his emails, published by WikiLeaks.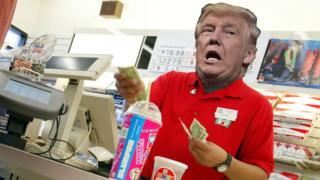 The BBC examines how the politics of fear are being used more than ever by both sides in this US election to exploit the Xanax-popping anxieties of American voters.
We also look at the Hillary haters, including women who are virulently opposed to the would-be first female president. Why does she inspire such loathing?
And we review Trump's comments last week, largely overshadowed by the 'hot mic' revelations, refusing to accept the innocence of the Central Park Five.
There's also the unfortunate case of Trump's Virginia chairman, whose rally in support of the Republican nominee went awry when he was fired – by the Trump campaign.
---
Random stat
42
Percentage of all Republican women serving in Congress or as governor who have now unendorsed Trump, compared with 17% of the men, according to political number cruncher fivethirtyeight.com.
---
Picture of the day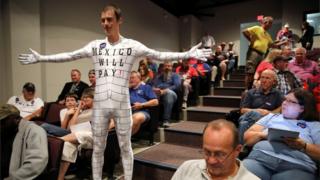 ---
Quote of the day
Facebook's chief operating officer scotches speculation that she might serve as treasury or commerce secretary under a President Hillary Clinton.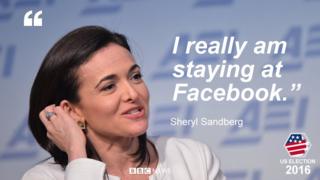 ---
Wednesday's diary
Donald Trump continues to campaign in the key swing state of Florida, while Clinton holds rallies in Colorado and Nevada.
Trump's running mate, Mike Pence, will hit the trail in Virginia and North Carolina, while Clinton's deputy, Tim Kaine, also head to North Carolina.
Bill Clinton will be in Iowa.
BBC News Source Link
Brought to you by Planet Genius
If You Liked This Article, Join our Newsletter To Receive More Great Articles