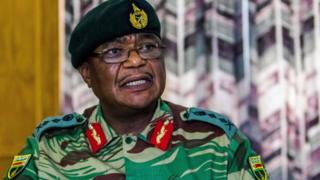 Zimbabwe's army chief has warned those responsible for "purging" the country's ruling Zanu-PF party to stop, or the military will step in.
The rare intervention comes just a week after President Robert Mugabe sacked his deputy Emmerson Mnangagwa.
General Constantino Chiwenga, who appeared at a news conference with another 90 senior army officers, did not refer to anyone by name.
Mr Mnangagwa, once seen as a successor to Mr Mugabe, has fled into exile.
Speaking at the army's headquarters, General Chiwenga said: "The current purging which is clearly targeting members of the party with a liberation background must stop forthwith.
"We must remind those behind the current treacherous shenanigans that when it comes to matters of protecting our revolution, the military will not hesitate to step in."
BBC News Source Link
Brought to you by Planet Genius
If You Liked This Article, Join our Newsletter To Receive More Great Articles