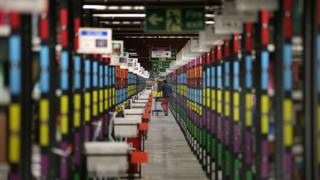 Web giant Amazon has reported a lower-than-expected third quarter profit as expenses rose, causing shares to tumble in after-hours trading.
The company also gave a disappointing fourth-quarter revenue forecast.
While quarterly revenues jumped 29%, in line with expectations, Amazon said its net income rose to $252m (£207m), or 52 cents per share, from $79m a year earlier.
Earnings per share were far short of the average estimate of 78 cents.
Total operating expenses rose 31.5% to $10.94bn as the company invested in Amazon Web Services, expanded its Prime programme internationally, built up its warehouse and delivery infrastructure and increased its original video output.
Amazon forecast net sales of between $42.0bn and $45.5bn for the fourth quarter, which includes the holiday shopping season.
Analysts on average had expected fourth-quarter sales of $44.58bn.
Third quarter revenues were boosted by net sales rising to $32.71bn from $25.36bn the year before.
Sales were helped by its Prime Day annual shopping festival, strong back-to-school shopping and its cloud services business.
BBC News Source Link
Brought to you by Planet Genius
If You Liked This Article, Join our Newsletter To Receive More Great Articles