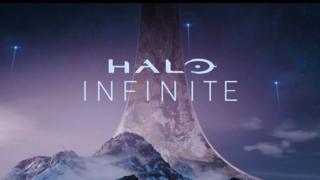 The first look at a new Halo game has kicked off Microsoft's E3 Xbox press conference.
Xbox chief Phil Spencer described it as Master Chief's "greatest adventure".
But he has still confirm whether Halo Infinite marks the completion of the second trilogy in the sci-fi franchise.
In addition to new games, Mr Spencer also revealed his firm had bought several indie studios – including two of the UK's leading developers – to secure exclusive content.
He added that the Los Angeles games expo press event – which is still underway – would early looks at 50 games, including 18 exclusives and 15 world premieres.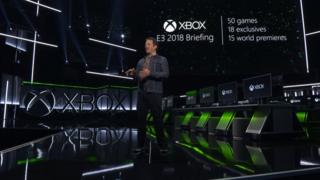 Microsoft's rivals Sony and Nintendo will preview their own titles later in the week.
Slower sales
Sales of the Xbox One lag far behind those of Sony's console, which has made it a challenge for Microsoft to convince third-party publishers to restrict games to its platforms.
At the end of March, 39.1 million Xbox Ones had been purchased worldwide – encompassing all versions of the games machine – according to market research firm IHS Markit. By contrast, 76.6 million units of the various PlayStation 4 consoles had been bought.
But Microsoft does have two advantages in its favour.
The Xbox One X – released last November – boasts more powerful graphics hardware than the PlayStation 4 Pro.
And Microsoft offers Xbox Game Pass – a Netflix-like subscription service that offers access to more than 100 titles including new first-party releases.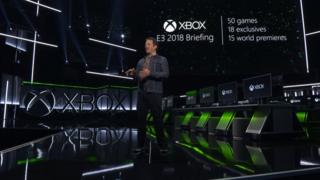 However, many games industry experts believe Sony has announced the stronger line-up of exclusive content at recent E3 conferences.
"Xbox chief, Phil Spencer has acknowledged the need to build its first-party output, but also noted it will take time," commented Piers Harding-Rolls, an analyst at IHS, ahead of the press show.
Spending spree
Mr Spencer addressed this point part-way through the event.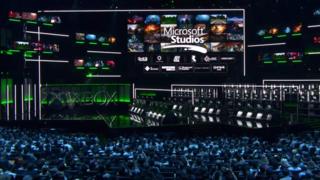 "We know that exclusive games from our Microsoft Studios are what originally turned so many of us into Xbox fans," he declared.
"This is why we are increasing our investment in our existing franchises that you already love and this is why we are amplifying our investment in new worlds."
He went on to reveal Microsoft had acquired two of the UK's leading indie studios.
They are:
Playground Games – the Leamington Spa studio responsible for the Forza Horizon racing series
Ninja Theory – the Cambridge-based developer of Devil May Cry and Hellblade: Senua's Sacrifice, which recently won five Bafta awards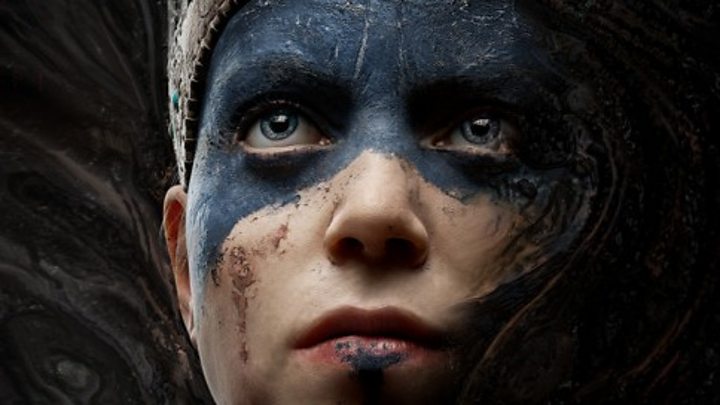 In addition, Mr Spencer revealed Microsoft had purchased Undead Labs – the US studio behind the State of Decay zombie games – and Canada's Compulsion Games, which is working on the crowdfunded retro-futuristic title We Happy Few.
The executive added that his firm had also created a new US-based studio, called The Initiative, which will be led by Darrell Gallagher, who previously oversaw 2013's Tomb Raider reboot.
"These five new teams will have the resources, the platform and creative independence to take bigger risks," Mr Spencer added.
The chief executive of the British games trade body Ukie was among those to welcome the news.
"Great to see some of the best British games studios featuring so highly in Microsoft's strategy for the future," tweeted Jo Twist.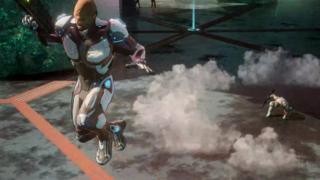 Racing hovercraft
Microsoft also showed off new footage from its highly-anticipated action-adventure sequel Crackdown 3.
The British-developed title had originally been scheduled for release in 2016 but has suffered multiple delays. It was confirmed that, as rumoured, the launch has been set back again, with the new sale date set as February 2019.
But another exclusive, Forza Horizon 4, is due for release this year.
This time round, the multiplayer driving game game is being set on the UK's roads.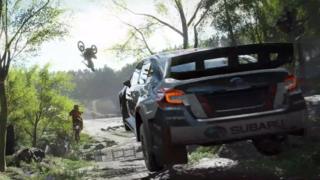 A demo shown on stage featured a hovercraft, in addition to the racing cars normally associated with the series.
It is set for a 2 October launch.
New content was also announced for the Xbox and Windows exclusive Sea of Thieves. The pirate-themed title has previously been described by Microsoft as its "fastest-selling first-party new intellectual property" of the current generation of hardware.
The DLC (downloadable content) pack Cursed Sails is due in July, and Forsaken Shores in September.
More to follow
BBC News Source Link
Brought to you by Planet Genius
If You Liked This Article, Join our Newsletter To Receive More Great Articles