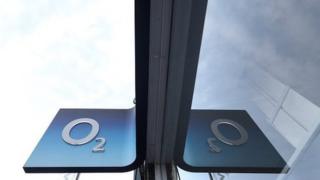 The planned merger of mobile networks O2 and Three should be blocked or severely restricted by EU regulators, the UK competition watchdog has said.
The Competition and Markets Authority (CMA) expressed "serious concerns" to the European Commission about the deal.
It warned the merger could cause "long-term damage" to UK telecoms because it would leave only three mobile networks.
The European Commission has until 19 May to make a decision on the proposed £10.5bn tie-up.
'Prohibition'
The planned purchase of O2 by Three, which is owned by Asia's richest person Li Ka-shing, was announced early last year.
However, the deal would leave just two other major operators: EE and Vodafone.
Three is locked in talks with the European Commission and last week sent its suggested remedies to smooth the takeover.
The CMA said the remedies "fall well short" and said the commission should instead force most of O2 or Three's mobile network to be sold off after the deal.
"Absent such structural remedies, the only option available to the Commission is prohibition," Alex Chisholm, chief executive of the CMA, said in the letter to the European Commission.
BBC News Source Link
Brought to you by Planet Genius
If You Liked This Article, Join our Newsletter To Receive More Great Articles